Lectora is a suite of tools designed to meet the diverse needs of course creators, from building core courses on slides to creating complex custom projects. It differs from other tools by including external services as part of the package, such as eLearning Brothers templates, avatar characters, and an interaction builder. It is possible to manage the content and updating of resources globally.
It is available for free and on monthly and annual subscriptions. 
Give its main features, its strong and critical aspects, like documentation, settings, tools, add-ons and if possible add screenshots. 
Lectora Inspire is a suite of rapid development tools that helps create interactive courses. Lectora is a main tool with many "plug-ins" included that you can use to create different types of content. It executes intricate branching navigation, click-to-reveal interactions, knowledge checks, quizzes and assessments, feedback popups, and more. Variety of modular templates, frameworks, and interactions. 
Support is extended via documentation and other online measures.
Responsive Course Design. Lectora's unique approach to mobile design is the most flexible of all tools. It gives you the most control of how your content displays across all devices. Content automatically adapts to the viewing device, but you can make adjustments as needed.
Unmatched Interactivity. Make all your learning needs come to life with Lectora:
Execute intricate branching navigation, click-to-reveal interactions, knowledge checks, quizzes and assessments, feedback popups, and more.

Leverage animation, timeline, and event-based triggers to synchronize audio, video, and user actions in a sequence of timed events.
All-New Framework Templates to Streamline Your Workflow. Quickly build instructionally sound and beautiful eLearning by utilizing all-new project templates including course frameworks, themes, style packs, and more! Jumpstart Course Creation with Built-in, Interactive Templates. Choose from a variety of modular templates, frameworks, and interactions from the Lectora Asset Library all maximized for mobile use and accessibility:
Stunning course starter templates in fresh designs. 

Page layouts, interactions, knowledge checks, quizzes, and more

Pre-built beautiful and versatile themes and style packs

Getting-started frameworks
Built-In Asset Library. Easily enhance courses with icons, characters, stock assets, and more.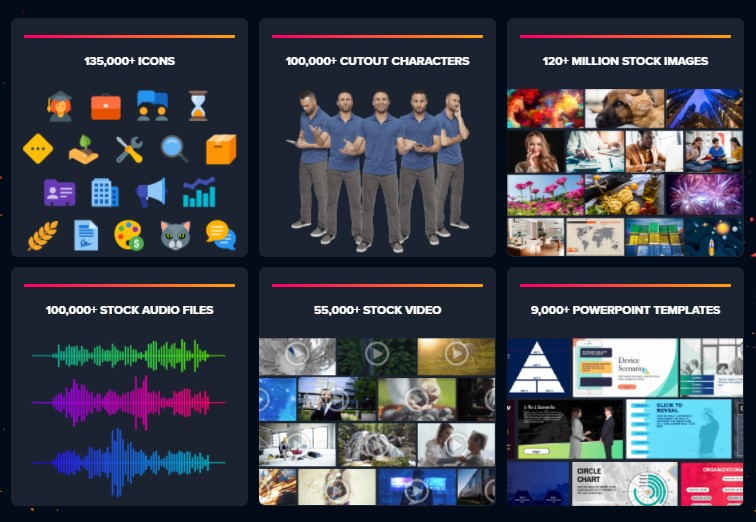 Screen Recorder & A/V Editor. Select the screen area to record, add your webcam, and go!
Personalize courses with video using the most user-friendly screen recording and editing tool imaginable. Record with your webcam and sync up with your slides. Liven up your video recording with text, images, animations, and transitions. Edit audio tracks in just a few clicks. There is a steep learning curve with limited support. The built-in audio and video editors have limited recording capabilities
The Accessibility Leader. Create a better experience for all learners. You never set out to purposely create barriers to learning. But if you're not keeping accessibility in mind from the very start of your course design, you may be creating such barriers. Lectora's built-in accessibility settings lead the industry and give you the capabilities you need to ensure all your learners receive the most effective training possible.
Translation & Text to Speech. Engage a global workforce:
7 languages: English, French, German, Spanish, Swedish, Chinese (Mandarin) & Brazilian Portuguese

Save time importing and exporting translation files with XLIFF (XML Localization Interchange File Format)
Personalized, Adaptive Learning. Track & react to learner behavior. Dynamically address skill gaps with BranchTrack for scenario-based branching (integrated with Lectora). Use built-in variables and conditions to create custom learning paths that adapt based on click behavior. Create advanced learning experiences to guide behaviors and maximize learners' performance.

PowerPoint Import. Quickly convert your PowerPoint slides into pages in your course. Upload and transform PowerPoint presentations into engaging eLearning in a just few clicks.
Simply insert a PPT file directly into an existing course or template by clicking the icon on the tool ribbon, add an assessment, publish, and go! Or, transform static slides into instructor-led training with Lectora's built-in screen recorder.
Collaborative Authoring. Work with others without losing your work (and your mind). Automatically log course revisions to help you track version history and communicate changes to remote team members. Track the version of each course to ensure you always deliver the most current eLearning available.
ReviewLink. Share. Collaborate. Succeed. With ReviewLink as part of Lectora, stakeholders and subject matter experts can provide comments throughout your course, which means fewer revisions and speedy approvals.
Additionally, it comes with an administrative dashboard, which lets users assign projects to reviewers and send request notifications to team members, streamlining approval processes. Lectora Online enables administrators to encrypt critical data and grant editing permissions to specific users.
Guidelines for Installation
Once you have purchased a product or service, you will log in the webapp, choosing your language, user ID and password.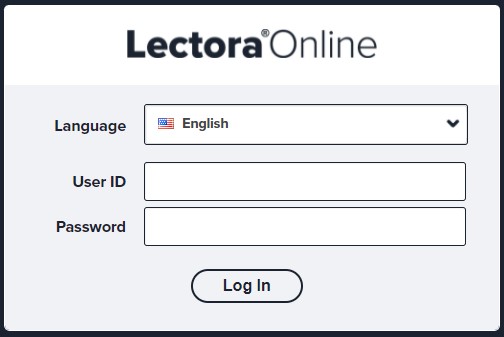 Here is the link to log in.
Official Website and link to download
The official product's website and the link for download it or purchase it:
Lectora Online is a cloud-based learning management solution that provides small to large enterprises with authoring tools to design, publish and deliver courses on multiple platforms. It enables users to collaborate with team members and automatically track revised content using versioning capabilities
Easily implement and use HTML, CSS, and Javascript. Publishing Flexibility. Track learner performance by publishing to an LMS/LRS. Publish to any format including SCORM, xAPI, HTML5, AICC, cmi5, and more. Publish directly to the Rockstar Learning Platform, SABA, Healthstream™, Docebo®, SCORM Cloud, and more.
Lectora Online allows businesses to import/export question banks on the platform and embed quizzes or media files into formative assessments. Managers can access various digital assets including photos, videos, templates and sound effects from the in-built media library.