BookWidgets is a tool that helps to develop interactive educational resources for your classroom. BookWidgets enables you to easily create custom material that will work for your class. It allows teachers to create interactive exercises and automatically graded tests in minutes.
You can choose from digital exercise templates that work on smartphones, tablets, and computers; transform paper tests to interactive quizzes or worksheets that work on iPads, Chromebooks or any other device.
In general, there are about 40 different widgets you can create, each containing a short description of its purpose and broken down into the following categories:
Test & Review (exit slips, flashcards, quizzes, etc.)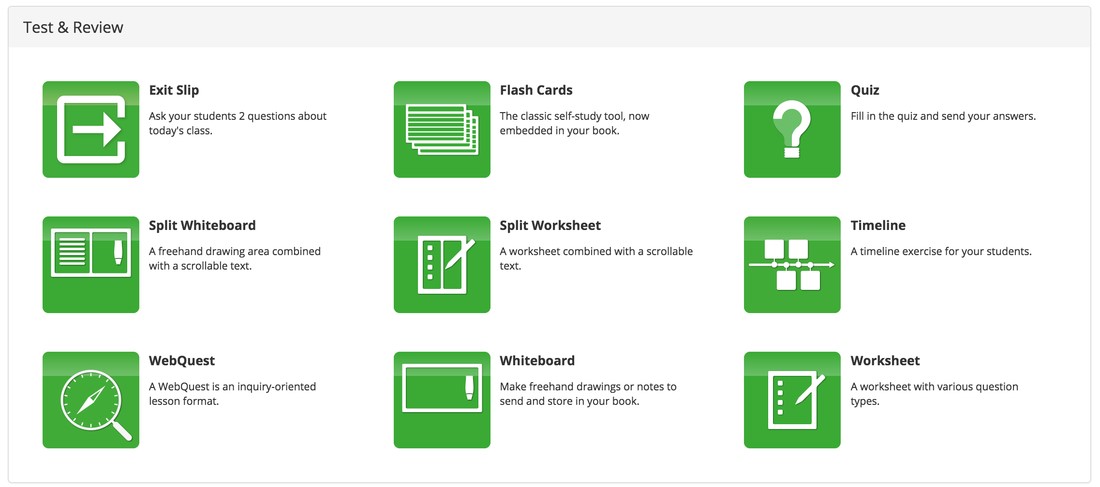 Games (bingo, crosswords, hangman, etc.)
Pictures & Videos (before/after, frame sequence, YouTube, Vimeo, etc.)
Math (active plots, arithmetic, charts, and spreadsheets)
Third Party (Google map, PDF, web embed, Wikipedia)
Miscellaneous (Clear storage, planner, form/survey)
You can evaluate, grade, and provide feedback to your students: many exercises are automatically graded, freeing up time for you to give quality feedback to your students with a click.
If you want to follow student activity live, you can monitor your students' progress in real-time while they're working on BookWidgets assignments, at home or in your classroom. Immediately discover students that need extra challenges, help struggling students, play live games, take real-time surveys, and much more!
BookWidgets offers tailored tours based on different teacher profiles: elementary school teacher, middle or high school teacher, university professor, professional.

BookWidgets is an excellent service for teachers and curriculum developers that allows users to create a ton of different types of interactive content to assign to students. It's easy to share the content created with students in a variety of formats, and get detailed analytics on student performance. There's no coding or programming of any kind, which is often the case for the creation of interactive content. Any teacher, regardless of their comfort level, could create widgets in a relatively short amount of time for their students.
BookWidgets are able to transform  boring lessons into an interesting, fun, more life-like experience. The system is easy to use, the widgets can be completed on tablet, Chromebook, or PC, and you can get detailed analytics on student performance. 
On the pricing side, BookWidgets is completely free for students (including the iOS app), but on the creation side, you do have to pay for an account.  That being said, they offer a free 30-day trial so you can test it out and see if it might be a beneficial resource for your classroom or school.
Amazing results reported by teachers, who used this tool during covid online teaching: www.bookwidgets.com/blog/2021/10/4-amazing-ways-to-boost-your-google-classroom-with-bookwidgets.
Guidelines for Installation
When you first login to BookWidgets creating your personal account, you'll be taken to your home page where you can quickly access any of the widgets you've created to send out to your students. If you choose to "Create your first widget now" you'll be offered a tutorial that walks you through the steps of widget creation.

You can also choose to skip the tutorial if you're ready to just jump right in. After you select the widget you want to use you'll be walked through a series of prompts that will help you construct the widget. Once you've finished creating your Widget, you can send it out to your students with a link (similar to a YouTube video) which you can also share through a LMS or social media.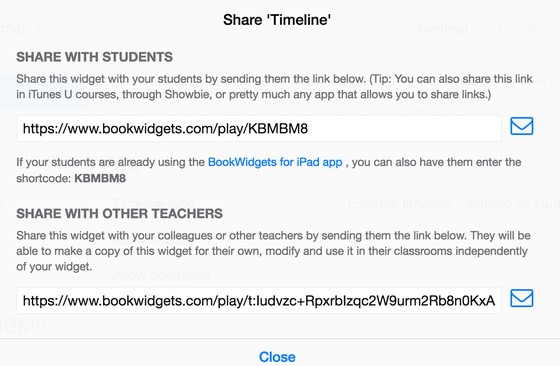 Students who receive the link will be able to complete the activity, regardless of the type of device they're using. Once students receive the link to the widget, they'll be able to work on whatever activity you've assigned them, they are able to add in their own events and create a timeline using text and images.  Once complete, they have the option to download their finished timeline as a PDF or to send it back to their teacher through the BookWidgets system.
You can also see any student submitted work directly from your home page as well, so if you want to get a quick look at how students have been doing with the content you've created, that's right there for you. After students submit their work, you are able to see a breakdown of everything they've done.  If it's an activity where you have to define correct answers (e.g. a quiz) you'll be able to see detailed analytics on student performance as well.
You can also choose to share the link with other teachers so that they can customize or reuse the widget that you've created, which is an excellent feature.  
Official Website and link to download
BookWidgets works even better with Google Classroom, Microsoft Teams for Education, Moodle, Canvas or Schoology.