IO2: i-CONTENT INTERACTIVITY
IO2.3 - Guide of applications for interactive content
Adobe Captivate is software for creating professional-grade eLearning courses and responsive learning experiences on mobile devices.
It is a complete authoring solution that gives extensive control over all aspects of the courses and allows for customization via advanced elements such as objects, variables and triggers.
It creates  eLearning courses with thousands of ready-to-go slides. Design complex branching logic and interactions without programming.
Introducing Adobe Captivate video.
Features are:
Ready-to-go slides. Conquer the challenges of getting started with eLearning, and creating good-looking courses quickly. Design beautiful eLearning content in minutes with the all-new ready-to-go slides. From the assets panel, choose from hundreds of responsive ready-to-go slides and add them to your eLearning project. Easily replace text, characters, images, and videos to make your course engaging. Preview the mobile-ready content and publish it to be consumed across devices and browsers.
Quick Start Projects. The all-new Quick Start Projects are a comprehensive set of ready-to-go interactive eLearning slides required for designing introduction, objectives, menu, layout, scenarios, interactions, and quiz slides. Choose a Quick Start Project from the Assets Panel, to create a new eLearning project. Simply swap out images, text, and other content to create enthralling courses in no time.
All-new Asset Store. The all-new Asset Store is here to help you work smarter. Download ready-to-go slides from responsive QuickStart Projects to create stunning eLearning courses in no time. Unlock value with in-product access to Adobe Stock and our library of 75,000+ free eLearning assets. Choose from a universe of royalty-free images, characters, interactions, themes, games, scenarios, audio, video, buttons, and much more. Find the perfect asset for your eLearning projects, and delight your learners with content that dazzles.
Immersive learning with VR experiences. Battle shrinking attention spans with immersive learning scenarios that your learners can experience in Virtual Reality using VR headsets. Import 360° media assets and add hotspots, quizzes and other interactive elements to engage your learners with near real-life scenarios. Display text and image, play audio or video, or perform navigation based actions on click of a hotspot. Now Adobe Captivate makes it possible for you to customize the styling of a hotspot and its display text. Achieve learning use cases such as – "virtual tours", "crisis management", "safety drills", "first responder situations", and more.
Fluid Boxes 2.0. Objects placed in Fluid Boxes get aligned automatically so that learners always get a fully responsive experience regardless of their device or browser. Use the predefined boxes in a responsive theme or draw your own. In the latest release of Adobe Captivate, Fluid Boxes get a productivity makeover – use the intuitive UI to control and customize your Fluid Boxes, view parent-child relations, distribute objects equally in a single click, define alignment properties in Static Fluid Boxes, and more.
Interactive videos. Liven up demos and training videos by making them interactive. Record your own or bring in existing YouTube or Vimeo videos. Add informational slides or knowledge check questions as overlays at specific point on the video. You can now have multiple overlay slides play one after the other, at the same point on the video. Add bookmarks in the timeline to aid learner remediation. Customize feedback options for answers and interactions.
Simplified Branching Workflow. Cross the hurdle of creating multi-module eLearning courses by authoring branching logic without programming. Download ready-to-go branching slides from the assets panel and swap out the text, image and other content in the different slide groups. Alternatively, group existing slides into modules. Create a menu that lists all the modules. Use proper naming convention to match the module names with the slide group names and find your multi-module course work seamlessly. Allow your learners to take a quiz only after all the modules are completed.
Automated click-and-replace interaction. Accelerate your eLearning authoring by implementing click-and-replace interaction without programming. Download a ready-to-go multistate interaction slide from the assets panel. Swap out the image, text and other content. use proper naming convention to map the interaction buttons with the corresponding object states. Allow forward navigation for learners, only after all the interactions are viewed or completed.
Multiple theme support. Now get your eLearning content to look exactly the way you want it. In the latest version of Adobe Captivate, there are no restrictions on the number of themes in a project. Bring in different slides from existing courses to your eLearning project and keep the same theme as the original project.
Image swap. Fast-track your eLearning authoring by simply swapping out images in your projects in seconds. Just drag and drop images of your choice to any existing slide in your project and see the old images get replaced by the new ones.
Image and SVGs as buttons. Speed up your authoring by drastically reducing the number of steps required to use images or SVGs as buttons in your eLearning course. The latest update of Adobe Captivate, now allows you to add any image or SVG to your course and directly use them as buttons. Define actions or advanced actions and assign them to the button in a few simple steps.
Copy Paste Appearance. Minimize authoring time by copying and pasting the appearance of one object to multiple other objects. Quickly apply similar formatting, such as color, font style, font size, and border style to different objects and text portions in your eLearning content.
Theme fonts. Now breeze through eLearning authoring by editing fonts with a single click. Format the fonts of all the slides in your project, in one go, by editing the theme fonts.
Smart Font Replacement. Boost your productivity with the smart font replacement features in the new Adobe Captivate. Easily comply with brand guidelines by uniformly changing the fonts, themes, and colors of an eLearning project with the click of a few buttons. Resolve missing fonts to ensure your projects don't lose their beautiful look and feel. Choose from a list of possible replacement fonts, if the fonts in your project are not available on your computer.
Live device preview. See exactly how your eLearning content will play out on your learners' VR devices. Use the live preview feature in Adobe Captivate to generate a QR code that you can scan using a mobile device and mirror the project real-time on your device browser. Once the initial connection is done, you can keep previewing all your work across projects as long as the Adobe Captivate session is active.
360⁰ learning experiences. Augment the learning landscape with 360° images and videos and convert them into interactive eLearning material with customizable overlay items such as information blurbs, audio content & quizzes. Make learners explore their surroundings and actively engage with the environment to enhance retention. Achieve complex learning use cases such as compliance protocols in action, virtual walkthroughs, realistic product demos and more.
Automatic chroma key effects. Transform your videos by making their backgrounds transparent and replace them in just a few clicks without the need for any green-screen technology. Personalize your video background by adding images or videos of places, scenarios or on-slide content. Get your project on the road with free media assets shipped with Adobe Captivate or choose your own.
Smart video recording – webcam + screen. Create studio-quality HD videos as you simultaneously record your webcam and on-screen content with just a few clicks. Adjust the talking-head video position and add persona to your training content. Easily edit the videos in Adobe Captivate and add interactivity to multi-screen video-based learning.
CSV question import template. Reduce authoring time and effort with the .csv Question Import template in Adobe Captivate, which helps you automatically create question slides in your Adobe Captivate Project. Include all question slide logic in the same .csv file such as marks, correct answers and feedback. You can also import format-compatible question banks from other authoring tools with just a few clicks.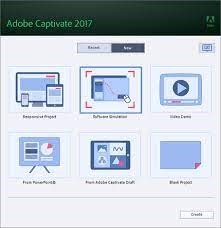 PowerPoint to mobile learning. Fast-forward to smart eLearning authoring by importing PowerPoint presentations to Adobe Captivate with just a few clicks. Transform static PowerPoint slides into eLearning content that works seamlessly across all devices. Enhance the learning experience by adding interactive elements, assets and quizzes.
Automatic device preview. Hit the play button to see your content automatically change shape and form factor across the full spectrum of device sizes. Get a holistic view of how responsive your content is on every screen size.
Overlay slides. Add a new dimension of interactivity to recorded or streaming videos with overlay slides in Adobe Captivate. Mark any slide as an overlay slide and insert it anywhere on your video timeline allowing you to add additional interactive layers for improved learner engagement.
Multiscreen responsive eLearning authoring. Author as you always have—content automatically rearranges for the learner's device. Use the in-product, device-specific preview to see how your project will appear. Publish as a single project and deliver a fully responsive experience to your learners.
Best-in-class screen capture. Generate robust software simulations with multiple learning modes in a single recording session by capturing all on-screen actions, including mouse movements, system audio, and keyboard activity. Create a single, responsive screen capture project that plays seamlessly across devices. Adobe Captivate detects screen activity in the recording window and pans to those areas to create screen capture output for tablet and mobile views.
Responsive text support. Provide a superior experience to learners, even for text-heavy courses delivered on small screens. Long paragraphs are collapsed to just a few lines, and learners can click to view more.
Responsive themes. Choose from various themes that attractively blend backgrounds, styles, fonts, and layouts and incorporate Fluid Boxes. Fluid Boxes make it easy to render fully responsive content for multiple devices. Customize themes to meet your requirements, or create your own. Save themes for reuse across projects.
Responsive motion effects without programming. Create fluid object transitions that include motion paths and rotations, even in responsive projects. Now add effects to individual objects and groups of objects. Define linear, custom, and scribble motion paths to control the way objects move. Preview animations on hover, and see how effects play out on the integrated Effects and Project timeline. Deliver a superior responsive learning experience by designing different effects for different devices.
Customizable closed captions. Create courses that meet accessibility standards with closed captions generated from slide notes and for slide videos. These can be enhanced by controlling the way they look and where they appear.
Device-specific previews. Eliminate the guesswork. Preview exactly how your content will look on specific devices by selecting from a preset device menu. Add new devices to the menu, as needed.
Shared advanced actions. Enable conditional or multiple actions in an interaction or across projects, and create shared action templates to use with other modules and projects. Enhance shared actions with variable parameterization, and create a looping algorithm from within an advanced action. And now you can have one or more decision or conditional tables.
Text to speech. Keep learners tuned in to your content thanks to automatic voiceover functionality that turns text into high-quality speech in a few clicks. Need to change the text? Just click once to update the audio.
Responsive drag-and-drop interactions. Make eLearning fun with drag-and-drop games, quizzes, and learning modules that can run on any device. Choose from a variety of relationships between the drag item and drop target to implement learning outcomes more visually. Provide customizable audio feedback to every drag-and-drop attempt.
It requires some training. It will be easier if you have some basic programming skills. It is best suited to experienced eLearning developers who are comfortable working with a little bit of programming.
It is quite difficult to update and maintain existing content.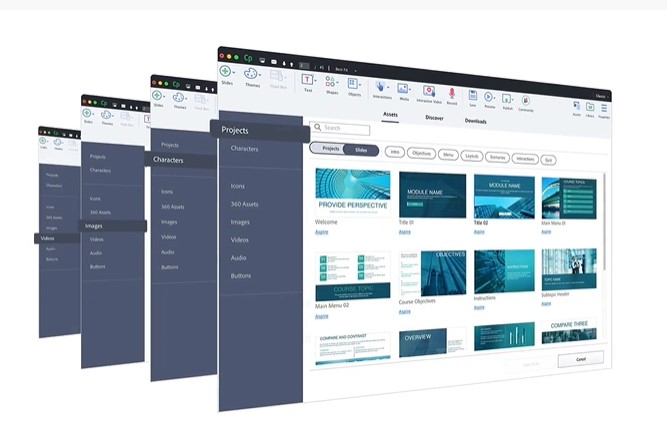 Guidelines for Installation
Once you have purchased a version of Adobe Captivate, you will have the installation media:
Sign in to My Adobe to find serial numbers for registered products.
Or, see Find a serial number.
If you do not have a serial number, you can use Captivate as a trial for 30 days.
Make sure that your system meets the requirements for Captivate. For more information, see System requirements.
After downloading the installation files, see these instructions to extract the files and install your product.
Here is the link to download.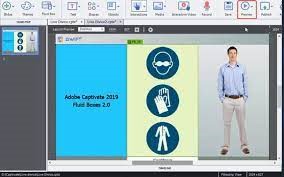 Official Website and link to download
It is a complete authoring standalone solution that gives extensive control over all aspects of the courses and allows for customization via advanced elements such as objects, variables and triggers.
All system requirements are here.
How to create a compliance course video.
Publish to Adobe Captivate Prime and other LMSs. You can set up a smart learning ecosystem and deliver a superior experience to your learners thanks to tight integration between Adobe Captivate and Adobe Captivate Prime LMS. Publish your courses with a single click to Adobe Captivate Prime or to other leading LMSs.
Adobe Captivate provides you options to make your projects SCORM/AICC-compliant and also creates the necessary files required for compliance to these standards. You can directly upload the published package to an LMS. Adobe Captivate allows for 'verbose' tracking – which means that both the correct answers and distractors are reported via AICC / SCORM or xAPI depending on developer output. You can also weigh the answers – assign partial and negative scores and even use advanced quiz responses on multiple-choice questions to provide feedback in context for selection of answer/distractors  – which can even trigger further actions. Adobe Captivate works with any Learning Management System (LMS) that are SCORM (1.2 or 2004), xAPI (Tin Can), and AICC-compliant.
Publishing to LMS: Workflow (LMS publishing, reporting, and tracking YouTube video)
Configure the project to report to LMS
Create a manifest file
Report button interactions
View and edit button interactions
Preview LMS
Publish the project for an LMS
Upload to an LMS
How to Configure the project to report to LMS? Here is the link.
In-product LMS preview. Eliminate the guesswork from content-LMS integration, get fine-grained control over all aspects of your course, and reduce dependency on your LMS administrator. Preview courses in Scorm.com to gauge LMS compatibility, and get error logs to identify those portions of the course that need attention.
Roundtripping with Adobe CC. Work with the world's best creative apps and roundtrip seamlessly with Adobe Photoshop, Adobe Illustrator, Adobe Audition and more in Adobe Creative Cloud. Preserve layers in imported Photoshop files, and edit or animate individual layers in Adobe Captivate for just the right effect. Edit and enhance audio files in Adobe Audition and then bring them back into Adobe Captivate.
Accessibility support. Easily create simulations and demonstrations that address accessibility standards, such as Section 508 and Web Content Accessibility Guidelines 2.0 (WCAG 2.0). To help ensure that everyone can access your content, define text equivalents, insert clickable areas that allow keyboard access, and more.